The wonderful Emma from @livepeachy is the host of #craftblogclub and for Christmas Emma had the idea of setting up a secret santa for all #craftblogclub regulars. As Christmas has now come and gone the secret is out so I am able to talk about it!
I was given the lovely Sonia from @layoutlines to make a christmas gift for. I decided to make Sonia some personlised bunting. I was very relieved to read the following tweet that not only had Sonia received my secret santa, but that she liked it! 'Feeling the #craftblogclub Christmas love, yay, big thank you to my #secretsanta'.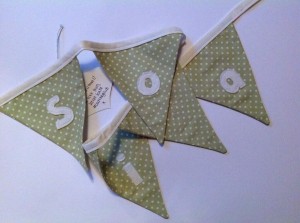 It was so great watching all the tweets come in with everyone sharing their lovely handmade secret santa gifts. I received my gift on 3rd Jan and I can tell you everyone in the house knew about it! I was running around like a kid on Christmas morning. My parcel had come all the way from America from @teenagebabushka.  I was very lucky to receive not one but two hand made gifts! Check out my headband hat and wrist warmers. I am still feeling the #craftblogclub Christmas love. A big thank you to @teenagebabushka for my secret santa and to all #craftblogclubers for taking part in a very special secret santa.