I have so enjoyed all my Christmas makes. I can't share all of them yet as it will ruin the surprise on Christmas day! But I'm pleased that the Santa sacks for my fiancé and brother-in-law are now finished and hopefully they are excited to put them out for Santa on Christmas Eve.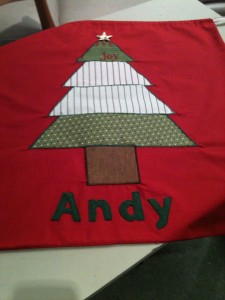 I have also finished my Christmas bunting. They have been given out as early Christmas presents as I want the recipients to have them hanging up alongside their other decorations.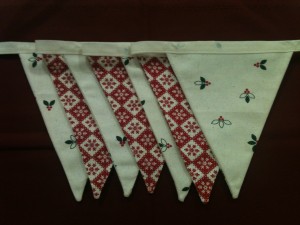 I have also been pom pom crazy after watching this fab tutorial. I will be wrapping my gifts this year with pom poms to make people smile!
Amongst all of this Christmas crafting I had a last minute addition to my list of makes. My fiancés mum had the task of making 6 choir surplice gowns for her schools Christmas carol concert. We had a rather late evening but we did it. I can't take any credit for them really as my fiancés mum did most of the work, it was a real achievement. The yokes were so fiddly but we got there in the end.  Needless to say when we finished we crashed on the sofa with a large glass of sherry! Sadly I was unable to make it to the concert but I am told they looked fabulous.