#Craftblogclub are thrilled to have guest host Jenna Clements of the Exeter Sewing Machine Company join us for Tuesdays chat. We will lead the chat with 'Top tips for running a craft business' but Jenna is happy to chat about all aspects of her work. So get your questions ready and we will see you all Tuesday 13th October at 7pm. Here is a short bio to find out more about our fab guest host:
'I was introduced to the crafting world when my mum taught me how to cross stitch when I was 2 years old – so it's true to say that I can't remember a time without craft! I've been working at Exeter Sewing Machine Co for 4 and a half years and now own the business with my husband. As well as sewing machines we sell fabric and haberdashery and employ a team of four members of staff. An important part of the business is our sewing classes – we run workshops in dressmaking, patchwork & quilting, as well as sewing machine and overlocker techniques – and occasionally host classes run by special guest tutors. My personal favourite class to teach is my Beginners Patchwork & Quilting – I love teaching absolute beginners. A lot of people ask why I don't sell my work – but I genuinely enjoy dedicating my time to teaching others instead. I'm a firm believer in the positive effect that craft can have on personal well-being, therefore passing on my knowledge and enthusiasm feels important. This is also the reason why we as a business put a lot of effort into our own education. I'm in the middle of my City & Guilds Level 3 Certificate in Design & Craft, specialising in Patchwork & Quilting.'
Jenna has kindly offered up a fab giveaway for one of our lovely followers! Check out these three fat quarters of Kaffe Fassett fabric.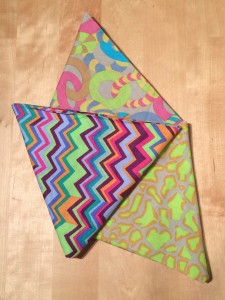 There are a number of ways you can enter this fat quarter give away and the best part is each one will be counted as 1 entry, so do all three and you will be entered three times!
1. Please leave a comment below about why you would love to win
2. Share this post on Twitter, tagging @craftblogclub and using the hashtag #CBCgiveaway
3. Give the #CraftBlogClub Facebook page a like, and leave a comment on why you'd love to win
Deadline for entries is 20th October at 5:30pm (GMT) and we can only except UK based entries – Sorry!
The winner will be picked at random using random.org and will be announced during #Craftblogclub on 20th October at 7pm (GMT) as well as on this blog and on Facebook.