At the end of March #craftblogclub set a new challenge – The #CraftBlogClub Spring Clean Gift Swap.
The challenge was to create and send a gift to a fellow #CraftBlogClub-ee, using materials that have sat unused.  The idea of this challenge was to use up those materials that have been lying around and to help you have a good clear out.
I was partnered up with the lovely Kay. I know Kay likes her knitted items so I saw this as a chance to dust off my knitting needles. I had some wool left over from a scarf I made years ago. So I decided to make Kay some wrist warmers. Not much use to her now but ready for the winter.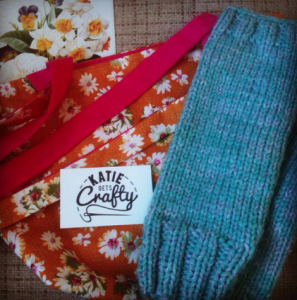 I also had some fabric left over from a jute bag I made last year and there was just enough to make another. To my delight Kay loved them both.
From Kay I received the most wonderful gift. Next month I am getting married and Kay has made us a beautiful cross stitch as a keepsake for our special day! How thoughtful?! I'm not ashamed to say I shed a few tears when I opened my gift. Thank you Kay x x x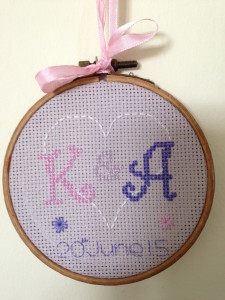 I can't wait for the next challenge – there really is nothing like getting a special hand made gift through the post! #craftblogclub is every Tuesday 7-8.30pm GMT, join us for lots of crafty chat, blogging inspiration and fun challenges – Come Join Us!