I first started knitting in 2010 using the basic knit, purl, increase, decrease and to be honest I haven't stretched my knitting skills since then. So imagine my excitement when I was asked to review Laura Strutt's latest book Arm & Finger Knitting. What a perfect way to expand on my knitting skills, plus I love reading Laura's blog and always admire her knitted creations.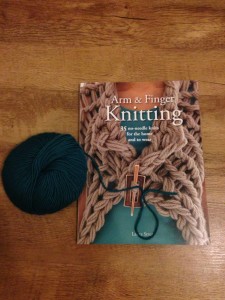 I have to admit I was slightly nervous about trying this new approach to knitting but my mind was put at ease as soon as I saw the 'useful terms & abbreviations' list. I don't know about you but I am so often put off by this list in some books, but in this case there were just 9 things listed and I was fairly sure I knew what they all meant. Phew!
Before picking up the yarn I enjoyed an evening of reading through the book and admiring the different projects. The book is neatly set out with arm and finger knitting projects for both the home and to wear. I am particularly fond of the knits for home. The projects will add warmth, texture and colour to any home. As someone currently planning a trip, the travel blanket on page 51 really caught my eye. I love the concept of the pocket that allows for the blanket to be folded away whilst at the same time making a comfy pillow.
This book is a real pleasure to follow with clear instructions and a natural flowing commentary throughout. The 'Make it yours' and 'Tip' sections make it feel as though Laura is personally willing you on as you knit. This book is ideal for the avid knitter looking to try a new technique to the absolute beginner, it really is the perfect gift for any keen crafter.
Arm & Finger Knitting (CICO Books) is available from all major book sellers including Amazon

Please also make sure that you check out Made Peachy at www.madepeachy.com  Twitter and Facebook