If you are a regular reader of my blog you will know I am a big fan of the @twistedthread Knitting and Stitching shows. Earlier this month was the Spring show at Kensington Olympia and I went along with my friend and co-host of #craftblogclub @fizzijayne. We had a wonderful time

The stall holders were pretty much the same as those I had seen at the Harrogate show last November. The show is so vast so I was pleased to have the opportunity to take in all these fabulous stalls again.
I fell in love with this foxy quilt! Being a Leicester girl (and with our current football success) foxes always catch my eye and I will certainly be making one of these for our home.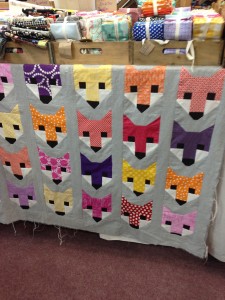 Another high of the show was having the chance to catch up with @JenniBobTaylor. Jenniffer is a wonderful supporter of #craftblogclub and so it was nice to finally meet in person. It gave us a chance to talk about a guest host slot with Jenniffer and an exciting up cycle challenge – more details to follow!

All in all, these shows are fabulous for being inspired and meeting likeminded people. So get out there and visit a show near you and be inspired!