I have never attempted a stuffed toy before, but when I saw 'Roger the Reindeer' in a Sew Home & Style issue last December I fell in love! A few of us at the sewing class I go to decided we would all have a go at making him. It was so lovely to work on a project together – we had a bit of a production line at the beginning for the cutting out which was a great help. I hate cutting out so to reduce the time spent on this was brilliant.
I don't know why I had been apprehensive in the past about making a stuffed toy – yes there were a few fiddly moments but nothing too stressful.
It was a great way to use up bits of fabric and some wooden buttons I have had lying around for a long time. For the eyes we used a fabric pen. I wasn't sure about this at first but it actually works really well.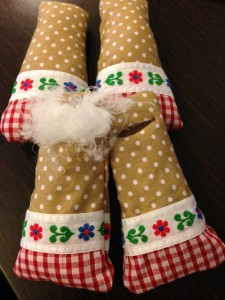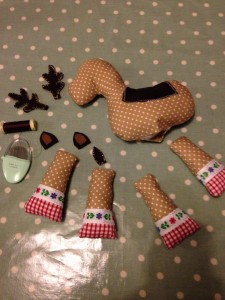 I am really pleased with him – I don't think he is one for cuddling (for fear he will fall apart) but he will certainly brighten up a shelf or arm of the sofa at Christmas! Sew Home & Style called their reindeer Roger but we have christened ours Rocky; in memory of our amazing trip to the Rockies this year!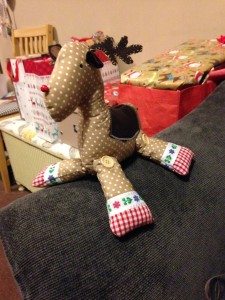 Merry Christmas Everyone!