This weekend I attended the Stitch, Sew and Hobbycrafts Show. Since moving to Devon I have been to the show each year with my fiancés Mum and Aunty. It's an event we look forward to as we get lots of ideas for our crafty projects, as well the chance to have a good old natter and catch up!
This year's show exhibited a selection of costumes from Les Miserables of which I am still to watch! A couple of years back clothes from the first series of Downton Abbey were on display. This year it was great to see a number of stall holders selling the new Downton inspired fabrics. I had looked at them a lot online so it was great to see them in real life. The colours were as beautiful as I had hoped. I just love the teal colours in the Lady Sybil range. You can check them out here.

The highlight of this years show was the stunning display by Devon-based textile enthusiast Alison Murray. The collection of 'Big Books' were 9 feet high with turning pages. Each page represented a season of which spring was my favourite with the beautiful crochet blossom tree and wisteria. Check out this clip of Alison talking about how she made this creation along with the help of many volunteers.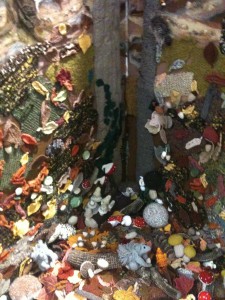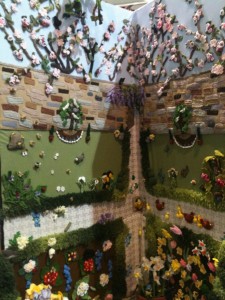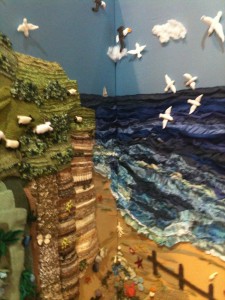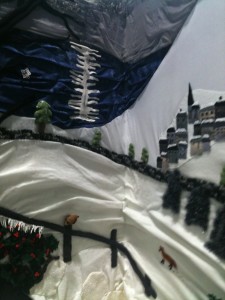 We left feeling really inspired and ready to get crafty. I couldn't leave without getting this beautiful Christmas fat quarter bundle from the Exeter Sewing Machine Company. I am making mini Christmas bunting with them. They will be on my folksy page soon so watch this space!